Special trainings
Challenge yourself!
---
Yachting on Lake Garda
"There is wind favorable ratings
not know where to go"
Seneca
Why yachting?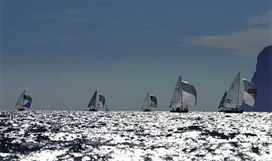 Because sailing is a sport where team work is essential and success is possible only through everyone's effort and permanent cooperation! It also gives the opportunity of enhancing self trust and learning to rely on others.
It permanently requests the ability of setting goals and pursuing objectives – the ability of knowing at any time where you are heading and follow directions!
How does this program work?
A team of professionals, conducted by a former World Champion in surfing & yachting, will teach you to sail. All the activities are recorded and analyzed together with our psychologist. The video-analysis will provide valuable information, leading to enhanced self-awareness and personal power.
The packages you can choose from:
:
"All aboard!"
• 8 persons aboard a 12m High speed Catamaran and a skipper who gives
instructions
• Each person has a specific role, which, if not performed right, the Cat will not
be put in motion!
"The yachting Company Cup"
• in teams of 5, participants learn to sail 8m Dolphin Yachts in 3 days
8m
• in the end they compete against the other teams
"Adrenaline Rush"
• Working together in teams of 2 (changing every day), participants learn to sail
5m racing catamarans
• In the end the teams will race against each other